3 Tips for a Safe New Year's Eve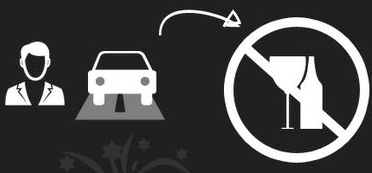 No Drinking & Driving
We all know New Year's Eve is a fun way to celebrate the last year & ring in the new one. It might be even be enjoyed with some alcohol. Before you toast your champagne at midnight, make sure you've got a designated driver to drive you home at the end of the night or just stay put. While it may not be fun for the DD, it is definitely NOT fun to get pulled over, have a vehicle accident, or worse. A few sips & getting behind the wheel could have costly long term effects on your auto insurance premiums, your life & the lives of others.
Deter Burglars & Thieves

As with anytime you're away from home, lock your doors & windows. Better yet, leave on the TV or Radio & a light so your home looks occupied. And if you're staying home & hosting a party this New Year's Eve – lock up your valuables. Leaving your vehicle parked to avoid driving under the influence? Make sure it's locked & personal items are out of eye-sight. Nothing ruins a good time like personal items or valuables gone missing.
Watch Your Drink

Watch your drink or have someone you trust keep an eye out for you. This doesn't apply to only New Year's Eve, but whether you have a "few" more drinks or leave your drink unattended- both can have lethal consequences. Stay in a group with trusted friends if you're going out. Know your limits, have fun & stay alert of your surroundings. There's no better way to celebrate the New Year than with a clear memory of what went on & those you spent it with!

Happy New Year from your agents at Ridge T Agency! May you each have a safe holiday & a prosperous New Year!