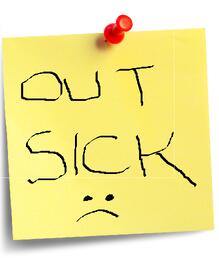 With these rapid temperature changes in the Texas weather lately, it can be hard to stay healthy. Check out these 6 tips on how to NOT get sick!
Stop Stressing About Getting Sick
Stress has been proven to weaken the immune system. Instead of letting life's frustrations take you down and force you into bed rest, take control of your stress level and do something to calm your body and mind. Knit a scarf, go for a stroll, get a massage, take a yoga class, anything to take the edge off.
Work Up A Sweat
Cardio and resistance exercise does more than burn off calories, it helps circulate your blood, pumping germ-fighting cells through your body and washing away toxins. In fact, 45 minutes of exercise, five days a week has been shown to minimize the amount of sick days by up to 50 percent. But that doesn't mean you have to hit the gym or drop a lot of dough on at-home cardio equipment. Before winter's wrath keeps you inside, take advantage of the clean fall air and take your workouts outside. Take a hike, go for a run, ride a bike, or just play tag with the kids.
Stay Alkaline
Sugars, saturated fats, and white breads are all acid-causing foods while fresh fruits and vegetables are naturally alkaline. So what does that matter? A healthy acid/alkaline diet increases immune function and weight loss. To up your alkaline, insert a few of these basic alkaline foods into your diet: fruits, vegetables, sea vegetables, grains, miso, tofu, spices, sprouted beans and nuts, and dairy foods.
Eat Good Fat
Low-fat diets help ward off infections. If you want to keep your body in tip-top shape, stay away from any saturated and Trans fatty acids but up your intake of Omega-3 Essential Fatty Acids, proven to have immune-modulating benefits.
Sleep Through Cold Season
If you want to stay healthy you have to get enough sleep, plain and simple. While you sleep, your body is working hard to regenerate and restore your body, healing from the damage done during the day. Sleeping between 7-9 hours each night helps amp up your white blood cell count-- your body's natural immune system defenders, helping to keep you healthy this sick season.
Pet Your Pup
Studies have shown that petting your best friend (from the animal world), be it a dog, cat or even a mouse, can increase your immune system.