Every parent starts to worry when their teenager starts driving. Not only are you worried about their safety, but paying for their insurance can be scary too! Check out these 7 tips on saving money when insuring your teenager.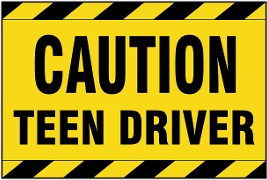 1. Raise your comprehensive and collision deductibles to at least $1,000, which lowers your premiums and prevents you from filing small claims that could jeopardize a claims-free discount. Add some more money to your emergency fund so you'll have the cash to pay the deductible if anyone in your family does have an accident.
2. Drop collision and comprehensive coverage entirely on older cars that are worth little more than the deductible. You may be paying more in premiums than you could ever get back from the insurer, even if the car is totaled. Look up your car's value on Kelley Blue Book .
3. Get a safe car. Having your child drive a safe car will help you sleep easier and keep your auto-insurance rates under control, too. Check safety ratings at the Insurance Institute for Highway Safety.
4. Encourage your kids to get good grades. Most insurers offer a big discount for young drivers who maintain at least a B average in high school or college. College kids generally need to take at least 12 credits to qualify for the discount.
5. Tell your insurer if your child goes away to college. If your child goes to school more than 100 miles away and doesn't take a car, you can usually get a big break on your premiums but still have coverage when he or she comes home for vacation.
6. Ask about other discounts for teenage drivers. Some insurers offer discounts for driver-safety programs, cutting costs if the kids take a special class, watch a DVD, or read a driver-safety book and take a test. Ask your insurer what your kid needs to do to qualify.
7. Make the most of multipolicy discounts. You'll usually get a break on your auto insurance and your homeowners insurance if you keep both policies with the same company. You may get an additional discount if you include an umbrella policy, which provides extra liability coverage beyond your auto-insurance limits and can be particularly valuable when you have a teenage driver.