Getting married is one of the biggest milestone events in your life. Sometimes individuals do not understand how your insurance is affected when you bring on a spouse. There are a few things that all newlyweds should know about their insurance once you've gotten married and/or considering getting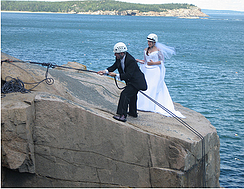 married in the near future. This article will lay out some things that you can consider when it comes to insuring yourself and your new spouse. Here are eight insurance tips for newlyweds that you must know.
1. Location Insurance Tips For Newlyweds
Consider purchasing homes close to fire hydrants and fire stations. Purchasing a home close to these location may cost less to insure.
2. Play Lucky Sevens
How much life insurance coverage do you need? Some experts suggest multiplying your annual salary by seven so your spouse is covered for 5 to 10 years (talk to an agent about your specific situation).
3. Consider Flood Insurance
Almost 25 percent of all flood insurance claims come from lower-risk areas, so consider picking up this extra policy. (We're talking about natural-disaster-type flooding; home insurance policies do cover damage caused by plumbing overflows.)
4. Rethink That Pit Bull Purchase
Some companies won't insure your home (or will charge you more) if you own certain breeds of dogs -- including pit bulls, rottweilers, and huskies. Why? In recent years, dog bites have accounted for about a quarter of all home insurance liability claims.
5. Keep Driving Your Red Wheels
It's a myth that auto insurance companies charge higher premiums for red cars. What does impact premiums? Your age, claims history, and the age and model of the car.
6. Step on the Scale
Because extremely overweight people are more likely to develop health problems as they grow older, life insurance companies often charge them higher premiums.
7. Insure Your Work Zone
If your home is damaged by a fire, you don't want to find out that your homeowners insurance doesn't cover your computer, garage, or key files because they're "business assets." If you run a business from home, get a rider or a separate policy.
8. Buy New or Renovated
Homes that are less than 10 years old or have been completely renovated within the last 10 years cost less to insure. And if your home is made of fire-resistant materials, like brick and masonry, you can save even more money.
Well, I hope you enjoyed the eight insurance tips for newlyweds. Considering all the things above and working with your agent will ensure you the best policy for the best price.
Did you get one of these awesome checklists?