Homeowner's Insurance With A New Baby!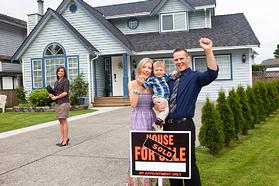 Shelter is a basic human need. You have to maintain that shelter for your baby for at least the next 18 to 22 years. That means you need a home through all foreseeable and especially unforeseeable life events.

A homeowner's policy will protect:
Your family belongings

Your home and other living structures

Your liability in case someone gets hurt on your property
A homeowner's policy will protect you and cover your structure and belongings from damage resulting from 11 perils: (Peril means cause of loss)
- Windstorm or hail

- Fire and lightning

- Vandalism or malicious mischief

- Theft

- Damage from vehicles and aircraft

- Explosion

- Riot or civil commotion

- Glass breakage

- Smoke

- Volcanic eruption

- Personal liability
(Note: Flood and earthquake coverage is usually available on separate policies)
Homeowner policies will also pay for reasonable living expenses if your home is deemed uninhabitable. This will continue your shelter if you're struck by a peril.