Groundhog Day 2014: Punxsutawney Phil sees shadow, 6 more weeks of winter. Will your homeowner's policy hold up with more snow/ice?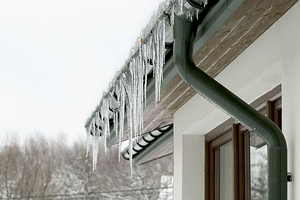 Only hurricanes and tornadoes cause more property damage than winter storms.
Weight of Snow and Ice
Damage caused by the weight of ice, snow and sleet is covered by all standard homeowners' insurance policies other than the "basic form" insurance policies, called HO-1. While HO-1 policies are no longer available in most states, it is a good idea to take your policy out and read it just to be on the safe side. Your policy also might not cover all of the damage if the adjuster finds that lack of proper maintenance contributed to the collapse.
Preventing a Collapse
"Proper prior planning prevents poor performance," the old saying goes. When it comes to your roof, having a plan in place before the winter storm hits might prevent the need to file a claim. Start by doing a little research on your roof. Find out how much weight it was designed to handle. Inspect your roof for any damaged or worn-out areas, and make necessary repairs before a winter storm event. Make preparations for removing excess snow from your roof before it becomes a problem.
Winter Storm Damage
Winter storms can cause havoc with your home. In addition to damage from the weight of ice and snow, winter storms can knock out power lines, resulting in the loss of refrigerated foods. High storm winds can blow trees down on your home or garage. Sub-freezing temperatures associated with winter storms can cause your pipes to freeze and burst. Ice dams can form that prevent proper drainage, resulting in water flowing into your home and causing water damage.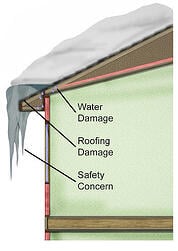 Deductible
Even if your homeowners' insurance policy covers a cave-in caused by snow, you will likely still be out-of-pocket for the amount of your deductible. You can think of your deductible as self-insurance. It's the amount you must be prepared to pay in the event of a covered disaster, such as your roof collapsing under the weight of snow and ice. You can save a lot of money on your insurance premiums by raising your deductible, but you might be out in the cold if you don't have that money set aside when the time comes to pay for the needed repairs.